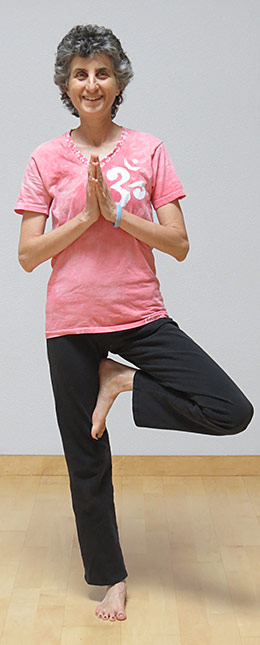 I am a certified Iyengar yoga instructor, and I have been teaching yoga since 1982. I first discovered yoga back in high school in the 1970s, in the days when practicing yoga was still regarded in the United States as something exotic and unusual. My journey began when I borrowed a few books about yoga from my local public library and practiced the lessons at home by myself after school.
While in college at Tufts University, I learned about B.K.S. Iyengar's approach to yoga, and began studying in Cambridge, Massachusetts with Betsey Downing and Patricia Walden. After college, I moved to San Francisco to study at the Iyengar Yoga Institute with such notable teachers as Judith Lasater, Mary Dunn and Ramanand Patel, among others. In 1982 I traveled to India to study with Mr. Iyengar himself.
I opened my first yoga studio in Portland, Oregon in 1983. I also was hired by coach Jack Ramsey as the stretching coach for the NBA Portland Trailblazers, and I taught pre-natal yoga at the National College of Naturopathic Medicine. Returning to San Francisco in 1985, I taught at the Iyengar Yoga Institute and started its first pre-natal class.
In 1987 I moved to Santa Rosa and taught yoga in a small rented space on Chinn Street. As my classes grew, I moved to a bigger space in the Lincoln Arts Center in Railroad Square. Then, in 2002, I opened my current studio on Riley Street in downtown Santa Rosa.
Along with the eight classes I teach each week in my studio for students at various levels, I also have taught prenatal classes, family yoga workshops, elementary school yoga classes, and employee wellness classes at Kaiser. I have worked with professional and amateur athletes, and I am the yoga teacher for the Dr. John McDougall Programs that are held in Santa Rosa. Once a month, in my studio, I offer a Restorative Workshop for people looking to de-stress and relax. My son, Michael Field, and I also offer occasional Yoga and Meditation workshops. Check for updates on the Workshop page.
Although I am a serious student of the art and science of yoga, I believe in taking a light-hearted approach when it comes to teaching. My goal is to create a friendly, welcoming environment in my classes and to focus on my students as individuals so that they will enjoy the experience of practicing yoga and benefit from my knowledge and caring approach.
Whether you are new to yoga or have been practicing for years, I invite you to call me to ask any questions you might have and to arrange to take your first class. I look forward to meeting you and to introducing you to The Yoga Center of Santa Rosa.